Brother and Sister Sing 'Daddy's Hands' Duet for Late Father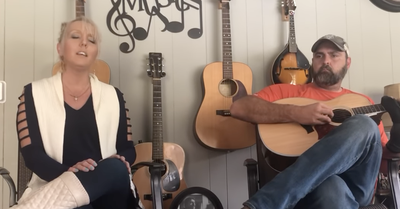 Crosswalk.com
You may recognize Angie Sutherland from her previous music videos. Angie and her father, Edgar Napier, became viral sensations after she posted a video of the two singing 'Lord, I Wanna Go To Heaven.'
Edgar was battling stage four cancer and one of his favorite pastimes was to sit on the porch in his rocking chair and play the guitar. Angie would sing along and they would create the most beautiful sounds. Sadly, Edgar lost his fight on August 25, 2019. Today, Angie is joined by her brother as they sing out these touching words.
"Daddy's hands were soft and kind when I was cryin'
Daddy's hands were hard as steel when I'd done wrong
Daddy's hands weren't always gentle but I've come to understand
There was always love in daddy's hands"
'Daddy's Hands' is the perfect song to honor Edgar. Angie wrote about the song saying, "I pictured my sweet little daddy throughout this whole song. He worked so hard for us and always put us first. Such an unselfish man." It is a beautiful reminder to us this Father's Day to thank the dad's in our lives for all of their sacrifices. While only our Heavenly Father is perfect, earthly father's have been given the incredibly humbling and significant task of raising children and exemplifying God's sacrificial love.
"I remember daddy's hands workin' 'til they bled
Sacrificed unselfishly just to keep us all fed
If I could do things over, I'd live my life again
And never take for granted the love in daddy's hands"
After this sweet performance, I know that Edgar is looking down from Heaven and smiling. What did you think of this sibling duet of 'Daddy's Hands?'
Related Content:
Andrea Bocelli and Daughter Sing 'Hallelujah' Duet
2 Children Sing Chilling Rendition of 'You Raise Me Up'
6 Prayers for Dad in Honor of Father's Day
This content originally appeared at https://www.godtube.com/watch/?v=1E229CNU; used with permission.
Photo credit: ©GodTube