Why It's Important to Understand That "God Doesn't Lie"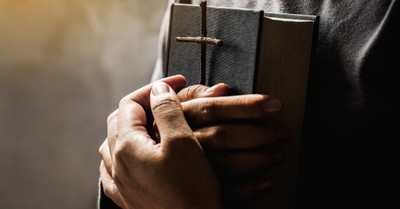 By Caroline Madison, Crosswalk.com
"God Doesn't Lie"—I grew up hearing this phrase lifted like a shield against every doubt we could possibly have as believers. What if the Bible isn't true? God doesn't lie. What if there's no place for me in heaven? God doesn't lie. What if my sins aren't forgiven? God doesn't lie. But it never inspired the confidence that I thought it should. And until recently, I didn't understand why. So, what does this tenet of our faith actually mean, and why is it so critical for believers to grasp?
Where Can We Find This Phrase in the Bible?
There are four notable places in Scripture where this phrase (or a close variation) occurs. The first two we find in the Old Testament in the form of rebuke.
1. Numbers 23:19 "God is not human, that he should lie, not a human being, that he should change his mind. Does he speak and then not act? Does he promise and not fulfill?"
This proclamation is made by Balaam when Balak, the king of Moab, insists that Balaam pronounce a curse on the people of Israel. This mighty king is intimidated by Israel and calls for Balaam because "…whoever you bless is blessed and whoever you curse is cursed" (Numbers 22:6). A lesser man might have swelled with pride at this confidence in his influence, but Balaam confirms repeatedly that he can only speak what God allows: "I have received a command to bless; he [God] has blessed, and I cannot change it" (Numbers 23:20).
2. 1 Samuel 15:29 "He who is the Glory of Israel does not lie or change his mind, for he is not a human being, that he should change his mind."
Here, we have a rebuke from Samuel after Saul has disobeyed the Lord's command and left people and animals alive among the Amalekites. In the verse that precedes this, Samuel tells Saul that his kingship is being stripped away and given to someone else. None of Saul's pleadings or excuses would change the mind of God; everything God spoke would be accomplished, if not through Saul then through David. In the New Testament, Paul and the author of Hebrews use this phrase as an assurance rather than a rebuke.
3. Titus 1:2 "…in the hope of eternal life, which God, who does not lie, promised before the beginning of time"
What a powerful way to open his letter to Titus! God promised salvation, believers hoped, and now God had brought it to pass and revealed the reality of it through Paul's preaching.
4. Hebrews 6:18 "God did this so that, by two unchangeable things in which it is impossible for God to lie, we who have fled to take hold of the hope set before us may be greatly encouraged."
The author of Hebrews assures his audience of the absolute dependability of God's promises. When we take oaths, we swear by something greater than ourselves to give our words certainty beyond our own ability to bring them to pass. In contrast, God has no need to make promises by an oath that rests on anything but Himself: as Matthew Henry explains, "for here we have two things which cannot change, the counsel and the oath of God, in which it is not possible for God to lie; it would be contrary to his nature as well as to his will."
What Does the Phrase "God Doesn't Lie" Mean?
My understanding of this concept was skewed because I read it like any other proclamation of something we hope is true but may not be. "Parents don't lie." "Spiritual leaders don't lie." "Friends don't lie." But they do, don't they? These aren't statements of fact, but rather expressions of hope that these people possess the quality of honesty. We cannot view the statement "God doesn't lie" the same way.
The Bible makes the stark contrast between God and men unmistakable with such verses as "God is not human, that he should lie" (Numbers 23:19) and "Let God be true, and every human being a liar" (Romans 3:4). When Scripture says, "God doesn't lie," it's more than a statement that He could lie and chooses not to. The author of Hebrews writes that "…it is impossible for God to lie…" So then, the phrase "God doesn't lie," could be accurately restated "God is truth." God doesn't possess the quality of speaking the truth; He is the source of it!
"Jesus answered, 'I am the way and the truth and the life.'" (John 14:6)
"Sanctify them [believers] by the truth; your [God's] word is truth." (John 17:17)
"All your [God's] words are true…" (Psalm 119:160)
Why Is This Fact Important?
This perspective shift drastically changed my understanding of God's promises. How could it not? Notice that out of the four verses where we find the phrase "God doesn't lie," three include the word "promise." And of those three, two also contain the word "hope." Fully recognizing God's identity as the source of truth can only produce unshakable hope in His promises. Because it's not even a question of whether He will fulfill His promises or not; the instant He speaks, it is true, even if we don't see it immediately. Throughout Christ's time on earth as a man, He spoke, and reality rearranged itself to accommodate.
Be still (Mark 4:39)
Be clean (Matthew 8:3)
Be with me in Paradise (Luke 23:43)
The centurion recognized this when he told Jesus not to bother coming to his home, but to merely say the words and heal his paralyzed servant (Matthew 8). Paul comforted his captors with the same faith: "So take heart, men, for I have faith in God that it will be exactly as I have been told" (Acts 27:25). Son or daughter of God, the source of truth says that you are loved (John 3:16; Jeremiah 31:3) and you are His (Isaiah 43:1; 1 John 4:6). And as His child, you are never alone (Hebrews 13:5).
Do you believe that God is the source of truth? His promises viewed through this lens, become far more than possibilities. If we are surrendered to God's will and following in His footsteps, those promises are certainties surer than tomorrow's sunrise.
Photo credit: ©GettyImages/ pcess609
Caroline Madison is a freelance editor and writer with a passion for the written word and a special interest in telling and reading stories that present biblical truths in fresh ways. She also enjoys writing flash fiction, drawing pencil portraits, and playing piano.