How to Give Words of Affirmation for Your Wife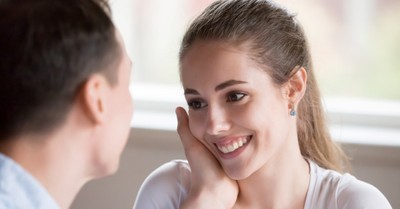 By Anna Oelerich, Crosswalk.com
Brought to you by
The concept of "words of affirmation" is best understood as one of five love languages coined by author and marriage counselor Gary Chapman in his book The Five Love Languages: The Secret to Love That Lasts.
Countless couples, as well as marriage and family professionals, have lauded the framework of the five love languages as an excellent tool for identifying needs and preferences in a relationship; however, some have said there's no major difference in relational satisfaction between couples who understand each other's love languages and those who don't.
Regardless, the faithful practice of affirming your wife through words breathes life into her, your marriage, and, by extension, the community to which you contribute (neighborhood, church, etc.)
Why Are Words of Affirmation for Your Wife Important?
Let's start with the premise that speaking kind words to everyone is a mandate for everyone - not just married couples. The Book of Proverbs, in particular, paints rich word pictures of wise speech - comparing it to "a honeycomb" (Proverbs 16:24) and "apples of gold in settings of silver" (Proverbs 25:11), among other precious items. Elsewhere, Proverbs promises "good things" for those who speak fruitfully with their lips (Proverbs 12:14).
The New Testament also mentions "words of affirmation," or kind words. In Luke 6, Jesus notes that the words someone speaks are a direct reflection of the nature of their heart (Luke 6:45). Elsewhere, the apostle Paul charges his readers to refrain from any "unwholesome talk" (Ephesians 4:29).
Though the expectation of using uplifting words applies to everyone, married couples have special instructions for treating each other. Since they become "one flesh" upon marrying, husbands and wives must form a strong bond. The right words are crucial to such a bond. Ephesians 5:22-33 gives a blueprint for the proper conduct between husbands and wives.
While speech is not specifically mentioned in the command to the husbands, men are responsible for loving their wives "as Christ loved the church." When we consider the character of Jesus Christ and the care with which He set the stage for the early church, can we not conclude that the words of a husband should be filled with care and compassion?
In Captivating: Unveiling the Mystery of a Woman's Soul, John and Stasi Eldredge write, "We think you'll find that every woman in her heart of hearts longs for three things: to be romanced, to play an irreplaceable role in a great adventure, and to unveil beauty. That's what makes a woman come alive." Words of affirmation encourage this wellspring of life in your wife.
How Often Should You Give Words of Affirmation to Your Wife?
Since we should seek to imitate Christ in all things, it is no wonder that men of God might want detailed instructions on how often to affirm their wives verbally. Yet Christians seeking a specific quantity of words of affirmation as a guide will find no such number in the Scriptures. However, Proverbs 3:27 comes to mind. And yet, we are also reminded that "love must be sincere" (Romans 12:9); this means that though husbands should affirm their wives with frequency, they should, of course, do so with sincerity and not repeatedly for accolades or to "receive a pass." It would be safe to say that expressing something meaningful each day is a great practice.
What Kind of Words of Affirmation Should You Give Your Wife?
Here are some helpful starting points.
Affirm her faith and God's care for her.
Examples:
- "Your faith is beautiful."
- "You are fearfully and wonderfully made by our Father in heaven."
- "Thank you for being a prayer warrior for our family."
Affirm your care for her.
Examples:
- "I'm so blessed to be yours."
- "We'll find the answers together."
- "I will always be here for you."
Affirm her character. The fruits of the Spirit are a great starting point.
Examples:
- "Your kindness is so refreshing."
- "The joy you bring to our house is contagious."
- "I appreciate all you do, but I love you for who you are."
Affirm her work ethic. The Proverbs 31 woman is praised for her hardworking nature; this chapter can be used for inspiration.
Examples:
- "Thank you for all the work you do to make our house a home."
- "Your dedication is so inspiring to me."
- "Thank you for taking time out of your day to serve our family."
Affirm her role(s) as a woman.
Examples:
- "Our children are so blessed to have you as their mother."
- "You are the most capable woman I know."
- "I love the way you lead and encourage other women."
Affirm her beauty.
Examples:
- "You are breathtaking."
- "You are radiant."
- "You are the loveliest woman to me."
Affirm her in ways that speak directly to her insecurities.
Examples:
- "I know you don't think you're good at ____, but I believe in you so much."
- "You've improved so much on _____ - I know that means a lot to you, and it means a lot to me."
- "Don't be so hard on yourself, my love. I wish you could see yourself the way I see you."
When Should You Give More than Words of Affirmation to Your Wife?
Though there is no "love languages" passage in the Bible, those languages are significant—and there's a reason there is more than one. Love is multifaceted, and our creative God has given us multiple ways to show it! But what are some specific occasions when more than words are needed?
When your wife is ill, injured, or otherwise unable to tend to things. We know that loving words can refresh the spirit and, to an extent, the body. But certain occasions call for the husband to display his strength in more tangible ways. If your wife is battling sickness, recovering from an injury, or perhaps has her hands full with a person or a project, words can help - but they will not directly contribute to what needs to be done. Identify the new needs at play, then weave those words of affirmation throughout. Your wife will not only see that you desire to go the extra mile for her - she will hear that you are doing it to glorify God and love her.
If you discover that "words of affirmation" is not her primary love language. Gary Chapman's ministry has many Five Love Languages resources, including a quiz to help you or your wife determine each other's love languages. For some women, it is more meaningful that their husband does the dishes after a long day (acts of service) or spends an uninterrupted afternoon with her on a favorite activity (quality time). This is not to say that words of affirmation can ever become unimportant; your wife may simply feel more loved through another avenue.
When she asks for more! If your wife asks specifically that you display a different love language, congratulations! This means she feels emotionally safe with you and is opening up her heart to make a request. Honor this vulnerability and seek to fulfill her request in the pursuit of cherishing her.
Photo Credit: © Getty Images/fizkes
Anna Oelerich is a Chicago-area church youth director, freelance writer, and graduate of Taylor University. She received her B.S. in Professional Writing in 2018, but has loved words—reading, storytelling, list-making, and even handwriting—for as long as she can remember. Previously, she served as the marketing and communications coordinator for a community foundation, where she shared powerful stories of generosity, and encouraged others to give. When writing an article, or developing programming for her students, Anna enjoys highlighting the historical and cultural contexts of familiar Bible passages so others feel they are living the stories for themselves.
LISTEN: Overcoming Fear in Marriage
The views and opinions expressed in this podcast are those of the speakers and do not necessarily reflect the views or positions of Salem Web Network and Salem Media Group.
WATCH: Signs You Married for the Wrong Reasons
Click here to read the full article.
This article originally appeared on Christianity.com. For more faith-building resources, visit
Christianity.com.