5 Prayers for Your Middle School Child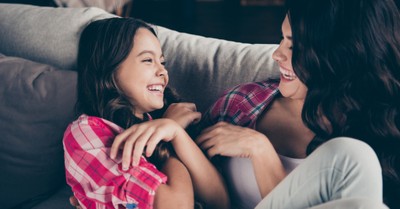 By Megan Moore, Crosswalk.com
Middle school is often described as the most challenging years, both for the kids and the parents. It is developmentally appropriate for this age group to desire and show more independence, but they still need strong guidance and consistent boundaries. This tension of being in-between a little kid and a teen can lead to disagreements, bad attitudes, and disrespect, but we can't let the stereotype overtake our outlook.
Kids in this stage can be an absolute delight! They are often funny and insightful with deep thoughts and dreams while also still wanting to find comfort in some of the things from their younger years, like stuffed animals and snuggles. As a parent, we must be the calm ones when their emotions seem unhinged and the steady place for them to land when the world feels like too much. Our peace cannot rely on how our children are behaving or performing. Jesus "Himself is our peace" (Ephesians 2:14). In all of the ups and downs of the middle school years, and the years that follow, we must solely find our strength in the Lord and lead our children to do the same.
As your child maneuvers down the winding path of middle school, prayer will be a vital resource for you as a parent. There may be times when you feel like you are not connecting with your child or you are concerned about their choices. In addition to staying involved and talking to them about all aspects of their life, here are five prayers that you may want to reference when navigating the typical middle school challenges:
1. Identity
Lord,
Identity is a word that we hear a lot of lately. I pray that my child finds his identity in You, solely in You as Your beloved child. We know that "God created human beings in His own image. In the image of God He created them; male and female He created them" (Genesis 1:27 NLT). Help me to regularly remind my son that he is created in Your image. Guide him through the lies of what he could try to find his identity in and lead Him to You in all things. I know that he will "try on" different identities to find his group and his interests, but I pray that he stays aware of the fact that his true identity can only be found in You. May he know that You determined his identity before he was even born. As You told Your prophet, Jeremiah, "I knew you before I formed you in your mother's womb. Before you were born I set you apart" (Jeremiah 1:5, NLT). May he never doubt Your love and Your presence, no matter what life brings his way. Grant him confidence in who he is and whose he is, and protect his developing mind from the confusing lies that he may be told about what he should be.
2. Belonging
Father,
Surround my child with a great cloud of witnesses (Hebrews 12:1 NIV) for you. Give her a supportive, loving group of friends that align with her values, and may they "carry each other's burdens" (Galatians 6:2, NIV). Let them build one another up (1 Thessalonians 5:11, NIV) and challenge each other to continue to grow in wisdom and in faith. May she and her friends feel loved and supported by one another. Bless her with friends who "make allowance for each other's faults, and forgive anyone who offends" (Colossians 3:13, NLT).
We know that You have designed us to be in community as you have told us in Proverbs 27:17 (NLT): "as iron sharpens iron, so one person sharpens another" and Matthew 18:20 (NIV) "where two or three gather in my name, there I am with them." Please bless her with relationships. I pray that in addition to friends, she has teachers who are believers and lead her in the way of truth. I pray that she has other adults who are believers she is comfortable talking with when it may be a time she needs someone other than me. Develop our church youth group and make it a safe place where she and her friends are happy and want to be. May she confidently feel like she has a community. May she know her place is in the body of Christ. I pray that you make it clear to her what her gifts are so she can use them to bless others.
3. Faith
Heavenly Father,
These years can be tumultuous and confusing. I am so grateful for the questions that my son has and that he is deeply thinking through things. We say that doubt is a vehicle, not a destination, and we support challenging our beliefs to test and approve them. But, Lord, in the midst of the questioning and doubting and challenging, guide him to keep hold of Your truth. I pray that he follows the words of Proverbs 3:5 (NIV), "Trust in the Lord with all your heart and lean not on your own understanding." Hold his hand as he goes through this process, and bring him to know deeply in His soul that You are good and true. Give him the gift of faith and allow him to "grow in the grace and knowledge of our Lord and Savior Jesus Christ" (2 Peter 3:18, ESV). May he grasps hold of the middle school years and "move beyond the elementary teachings about Christ and be taken forward to maturity" (Hebrews 6:1, NIV). Thank You for the blessing of a front-row seat to watch this precious soul and mind that You created as he grows into the man You intend for him to be.
4. Innocence
God,
Your word says, "I want you to be wise about what is good, and innocent about what is evil" (Romans 16:19, NIV). I pray that you keep my child innocent of evil. At the same time, please protect her from being naive, for we know that naive people can easily be deceived (Proverbs 14:15, Romans 16:18, NIV). Rather, may she be the kind of person described in Matthew 10:16 (NIV) which says, "I am sending you out like sheep among wolves. Therefore be as shrewd as snakes and as innocent as doves." May she quickly turn to You when she is in a tough spot because we know that You provide a clear way out of temptation so that we can remain innocent. Paul tells us in 1 Corinthians 10:13 (NLT) that "the temptations in your life are no different from what others experience. And God is faithful. He will not allow the temptation to be more than you can stand. When you are tempted, he will show you a way out so that you can endure." I pray that she knows these words of Yours and clings to them. Deuteronomy 11:18 (ESV) says, "...lay up these words of mine in your heart and in your soul..." Oh, Lord, I pray that she relies on your word through these middle school years and for the rest of her life.
5. Influence
Lord,
I pray for the influence on my child's life. Not only do I pray that he is surrounded by good influences and can stand under the pressure of bad influences, but I especially pray for the influence that he has on others. We know that even at a young age, believers can have tremendous influence. As 1 Timothy 4:12 (NLT) tells us, "Don't let anyone think less of you because you are young. Be an example to all believers in what you say, in the way you live, in your love, your faith, and your purity." May I not hold him back because of his age. Give me peace as I let him go out into the world and trust that he will let his light shine before others so that You get the glory (Matthew 5:16, ESV). I pray that as he walks the halls of school, rides the bus, and makes new friends, he follows the words of Titus 2:7 (NLT): "and you yourself must be an example to them by doing good works of every kind. Let everything you do reflect the integrity and seriousness of your teaching." I pray that as he participates in after-school activities and meets people who live differently than we do, and joins the middle school youth group, that he lives out Colossians 3:17 (NIV), which says, "And whatever you do, whether in word or deed, do it all in the name of the Lord Jesus, giving thanks to God the Father through Him." May we as a family experience and develop his influence on others, and may his life lead others to Your love.
Photo Credit: ©GettyImages/Deagreez
Megan Moore is a military spouse and mom of 3 (through birth and adoption). A speech-language pathologist by training, she now spends her time moving around the country every couple of years. She is passionate about special needs, adoption, and ice cream.
Related: FREE Podcast for Praying Moms!
Do you desire to be a prayer warrior for your kids? Million Praying Moms is the podcast helping you learn to pray God's Word for your children in the areas they need it most. Join author and speaker, Brooke McGlothlin, in making prayer the first and best response to the challenges of motherhood. Listen to every episode on LifeAudio.com, and be sure to subscribe on Apple or Spotify so you never miss an episode.
The views and opinions expressed in this podcast are those of the speakers and do not necessarily reflect the views or positions of Salem Web Network and Salem Media Group.
Related video:
You can read Rhonda's full article here!