Donate Toys This Christmas
6:00 - 9:00 AM on Friday, December 3
1:00 - 5:00 PM on Sunday, December 5
6:00 AM - 5:00 PM on Friday, December 10
1:00 - 4:00 PM on Saturday, December 11
6:00 - 9:00 AM on Thursday, December 16
6:00 - 9:00 AM on Friday, December 17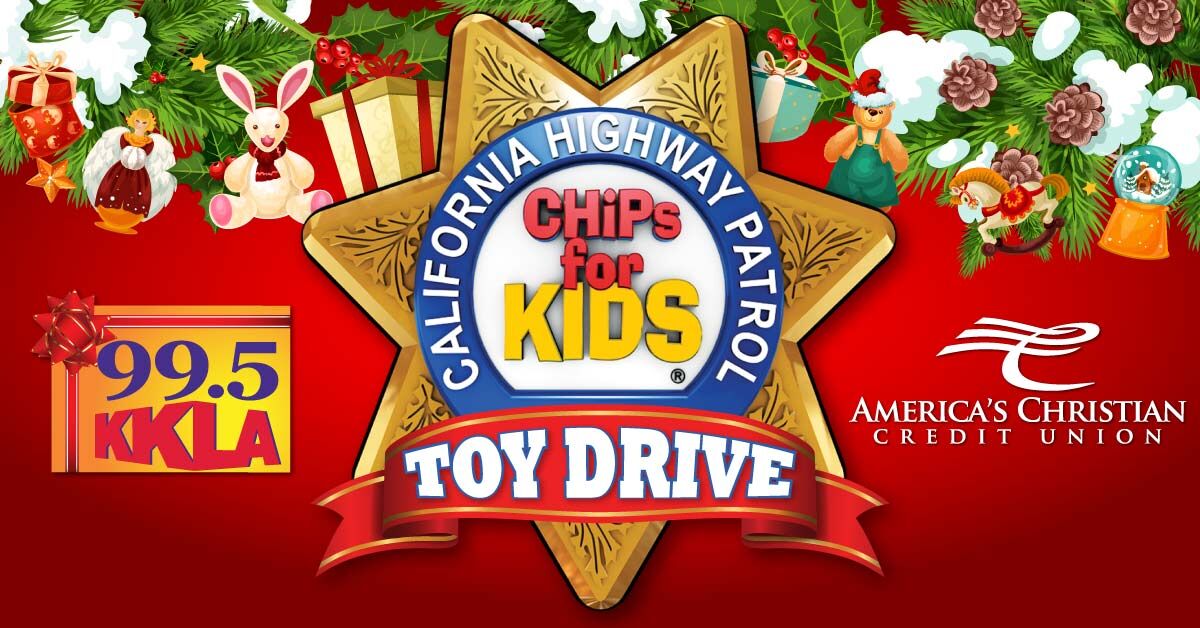 99.5 KKLA is once again partnering with the California Highway Patrol CHiPs for Kids and our sister stations AM870 The Answer, AM590 The Answer, The Fish 95.9 and SpeakJoy to sponsor Christmas Toy Drives to benefit deserving children throughout Southern California.
99.5 KKLA invites you to our Glendale Offices and Studios, 701 North Brand Boulevard in Glendale on Friday, December 10, 2021 for our CHiPs for Kids Toy Drive sponsored by America's Christian Credit Union. Drop off donations anytime between 6:00 am and 5:00 pm.

Christmas Toy Drives will be held in Los Angeles, Orange and Riverside Counties - so listeners throughout the Southland can easily find a donation event near them. Please see a complete listing of our Christmas Toy Drives below.
The need for New Toys, Sporting Goods and Gift Cards is critical this year - with so many families suffering financial challenges due to the COVID pandemic.
Please join 99.5 KKLA by supporting these very worthy causes by donating a New Unwrapped Toy, Sporting Goods item or Gift Cards for older children at one of our California Highway Patrol CHiPs for Kids or SpeakJoy Christmas Toy Drives.