Bless Your Church or School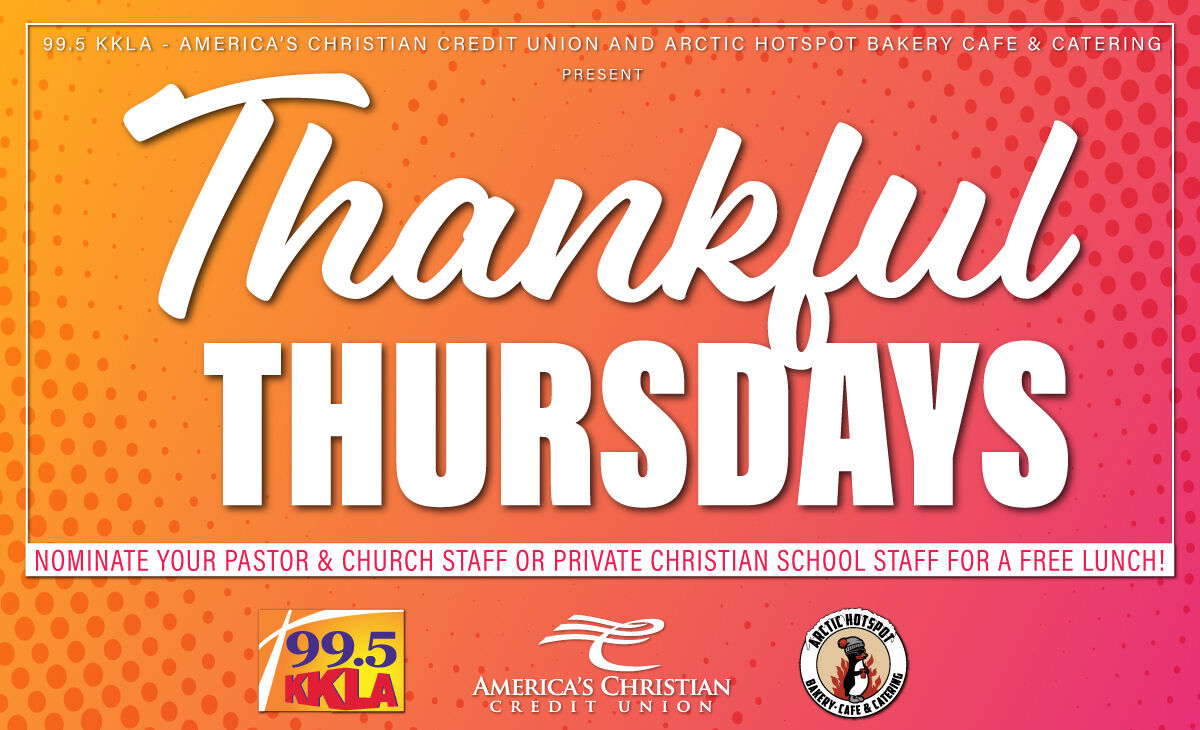 99.5 KKLA, America's Christian Credit Union and Arctic Hotspot Bakery, Cafe & Catering are proud to continue to present - Thankful Thursdays - our way of saying thanks to local Church Pastors and their Staffs and Christian Schools, Principals, Teachers and their Staffs by delivering a FREE LUNCH* to their offices every Thursday.
Each week we'll select a Church or School from among the nominations we receive from our 99.5 KKLA listeners. We invite you to nominate your local Church, Christian School or just a favorite one - for this special honor.
Use the links below to nominate the Church or School of your choice by telling us why you want to bless them. Then listen to 99.5 KKLA every Thursday for the name of the Church or School to be honored including your nomination story as to why they deserve a Thankful Thursday FREE lunch*.
Help us bless local Churches and Christian Schools every Thursday - every Thankful Thursday - with lunch courtesy of Arctic Hotspot Bakery, Cafe & Catering.
You can submit one nomination per week! Click on the links below to get started with your first nomination.
And Thank You - for helping 99.5 KKLA and America's Christian Credit Union make every Thursday - a Thankful Thursday for the staff of a local Church or Christian School.
*Arctic Hotspot Cafe & Catering provides lunch for 12.

THURSDAY | AUGUST 31, 2023


VICTORY OUTREACH WHITTIER | 7021 greenleaf avenue, #1305 | whittier 90602
Phone number: (562) 696-5791 | CHURCH WEBSITE | FACEBOOK PAGE | YOUTUBE PAGE
WEEKLY SERVICES: Sunday MORNINGS 9:00 AM and 11:00 AM, Wednesday EVENINGS 7:30 PM and Friday eveings 7:30 pm
Senior Pastor: Joe Cotinola
Nominated by: Regina Gon
"Pastor Joe believes that a strong marriage and family will produce a strong church. The church has many marriage events, seminars, and gatherings to fellowship with other married couples and share God's word besides spend time with couples in our church. This includes Pastor Joe. Pastor Joe is an Elder in a big international worldwide church and he is very approachable and still has the time to get to know new people in the church. His wife Doreen and him welcomed us with open arms. Thank you, Pastor Joe. We found our church home."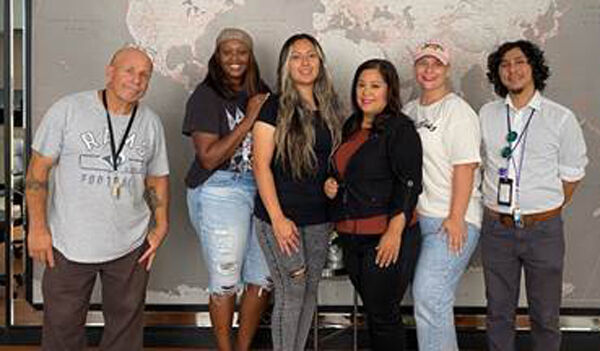 Pictured: Staff of Victory Outreach Whittier with KKLA's Team Lead Jared Acevedo.
---
WEEKLY SERVICES: Sunday MORNINGS 10:30 AM AND Wednesday EVENINGS 7:00 PM
Senior Pastor: Nicholas Canody
Nominated by: Kathy Jones
""Our church has an awesome Pastor who goes above and beyond for the community. Even outside church he is always witnessing on the streets or anywhere he goes."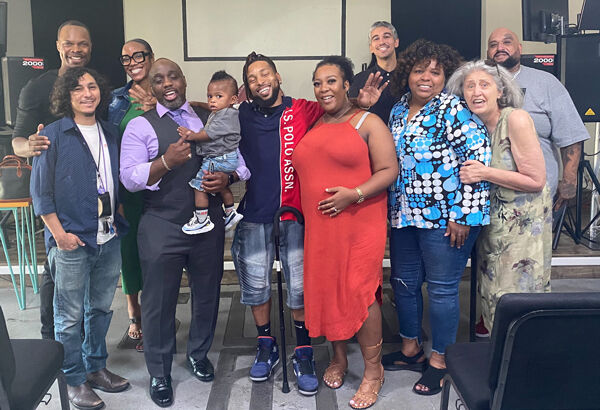 Pictured: Pastor Nicholas Canody, Jared Acevedo (KKLA), Travion Robinson Jr, Deacon Travion Robinson, Janine Robinson, Portia White, Baizar Aprahamian, Ryan Stroud, Clarise Stroud, Pastor Chill Aguilar and Justin Mora (KKLA.)
---
WEEKLY SERVICES: SUNDAY EVENINGS 6:00 PM
Senior Pastor: Curtis Williams
Nominated by: Gisella Padilla
"I want to nominate my Pastor, Curtis Williams because he is the most, loving, encouraging and supportive pastor ever! He turned our church into a virtual church during the pandemic and that gave me hope and encouragement to keep going. I am forever grateful for my pastor, First Lady Jennifer and their beautiful family."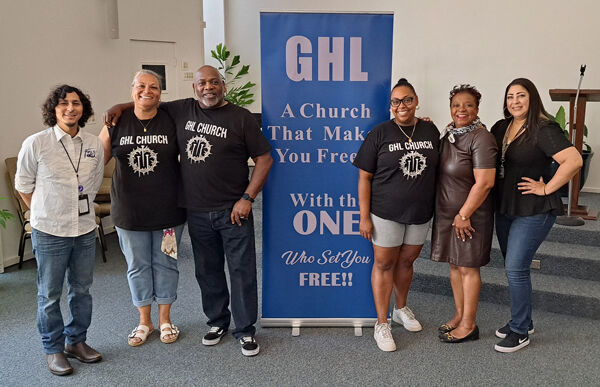 Pictured L-R KKLA Thankful Thursday Team Lead Jared Acevedo, First Lady Jennifer Williams, Pastor Curtis Williams, Lead Usher Katrese Williams, Secretary Renee Anglie and Thankful Thursday Nominator Giselle Padilla.
---
EMAIL:

[email protected]

|

WEEKLY SERVICES: SUNDAY MORNINGS 10:00 AM AND Wednesday evenings 7:00 pm
Senior Pastor: Nisan C. Stewart
Nominated by: Kathy Williams
"Pastor Nisan not only works with his local church but collaborates with other churches in our area to bring the community together. (Sunday service in the park). Pastor Nisan has initiated several projects including: Warmer A Soul (Coats, sweaters, for those in need); food drives/give-a-way (Homeless); developing resources for those who are incarcerated and recently released (training, jobs, social skills); programs for all ages (Seniors, young adults and the youth); partnered with the country of Kenya (built a well and provide clothing year-round) and counseling programs (Married, Singles and Mental Health). Pastor Nisan also wants to make sure that his church is not only spiritually healthy, but naturally healthy (Health & Exercise Programs). Pastor Nissan also encourages his church family to live a balanced life enjoying vacation. Pastor Nisan also is a husband and a father of 3 doing a great job balancing church and home, not leaving his family behind."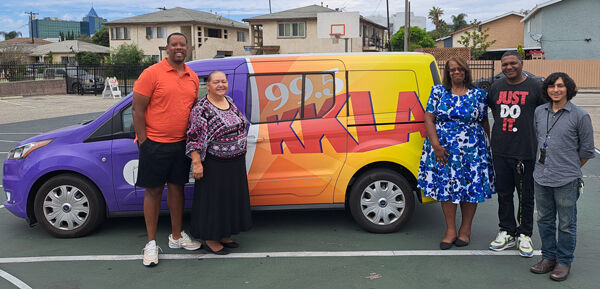 Pictured L-R Pastor Nisan Stewart, Olivia Solorzano (Office Clerk), Carla Greenwood (Executive Administrator), Edward Arch (Facilities Manager) and Jared Acevedo (KKLA Thankful Thursday Team Lead) in front of the KKLA ECOLA Van.
---
EMAIL:

[email protected]

|

WEEKLY SERVICES: SUNDAY MORNINGS 9:00 AM AND Wednesday evenings 7:00 pm
Senior Pastor: Alfred Facundo
Nominated by: Erika Perez
"Because It's A Great Church And They Do Awesome Things For The Community!"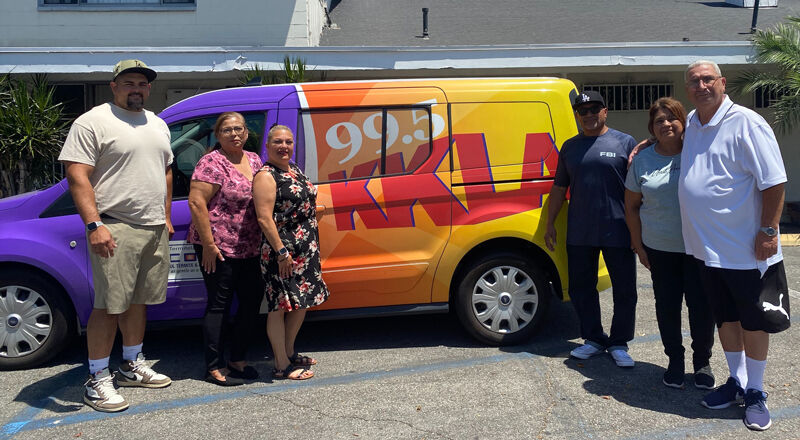 Pictured L-R Brad Sanchez, Youth Pastor; Sylvia Gutierez, Children's Ministry; Brenda Hernandez, Worship Leader; Wally Oviedo, Assistant Pastor; Arlene Facundo, and Alfred Facundo, Senior Pastor. in front of the KKLA ECOLA Van.
---
EMAIL:

[email protected]

|

WEEKLY SERVICES: SUNDAY MORNINGS 9:00 AM AND 10:30 AM
Senior Pastor: Dave Asch
Nominated by: Nicki Harms
"My church staff is amazing...shifting to online when COVID hit and now offer both awesome in person and online worship. They have worked so hard! They also help our church offer food to needy families every week."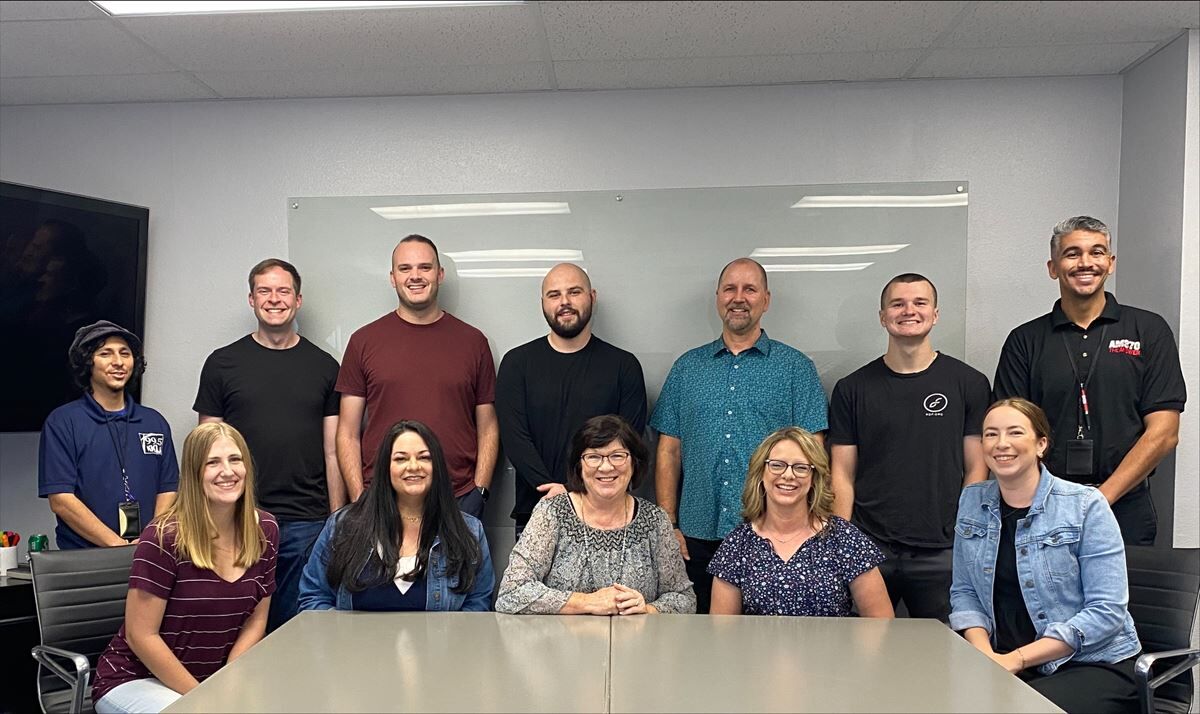 Pictured L-R Front Row Aimee Asch, Director of Outreach and Engagement Barb Arroyo, Bookkeeper Sandi Leach, Campus Coordinator Kristin Reyes and Office Manager: Christin Conway Back Row KKLA Team Lead Jared Acevedo, Chris Conway, Student Ministries Pastor Grant Morgan,
Creative Director Noah Tessier, Senior Pastor Dave Asch, Technical Director Brady Sweet and KKLA Team Lead Justin Mora.
---
EMAIL:

[email protected]

|

WEEKLY SERVICES: Sunday mornings 8:30 AM, 10:30 AM, Wednesday evenings 7:00 PM
Senior Pastor: Lance Cook
Nominated by: Diane Colvin
"Our church is always helping others. They made sure everyone was taken care of during the pandemic with food and phone calls and they are always there for everyone. pastor Lance is a very special Pastor."

Pictured L-R Front Row Video Producer Josiah Solis, Taylor Clemmons, James Delgado, Admin Kayla Cook, Back Row Worship Pastor Mead Chesebro, David Greer, Carson Vellejo, Russell Christensen, Admin Kelley Busch, Trevor Burchill, Pastor Lance Cook, Elton Gamez
Jeff Allen, Administrative Pastor Francel Esquivel.
---
EMAIL:

[email protected]

|

WEEKLY SERVICES: Sunday mornings 10:00 AM, Wednesday evenings 7:00 PM
Senior Pastor: Kasper Molina
Nominated by: Crystal Gonzalez
"I would like to nominate Pastor Kasper Molina and his wife Janet because they just had a 14 year Anniversary serving at our church and through it all they're great examples of Kingdom people. They are committed to serving, for example they got home at 3 am from a Pastor international convention after weather delay in Florida and still had Sunday service only a few hours later (3hr sleep). The staff is also amazing especially Lupe, we are a small church, so she handles a lot and we are blessed to have her. The spirit is moving at EVERY service and kids love the reading enthusiastic program with reading buddy. We are currently working hard to get summer camp on the way in the next few weeks. For these reasons I am thankful for FaithPointe Foursquare Church and God's vessels."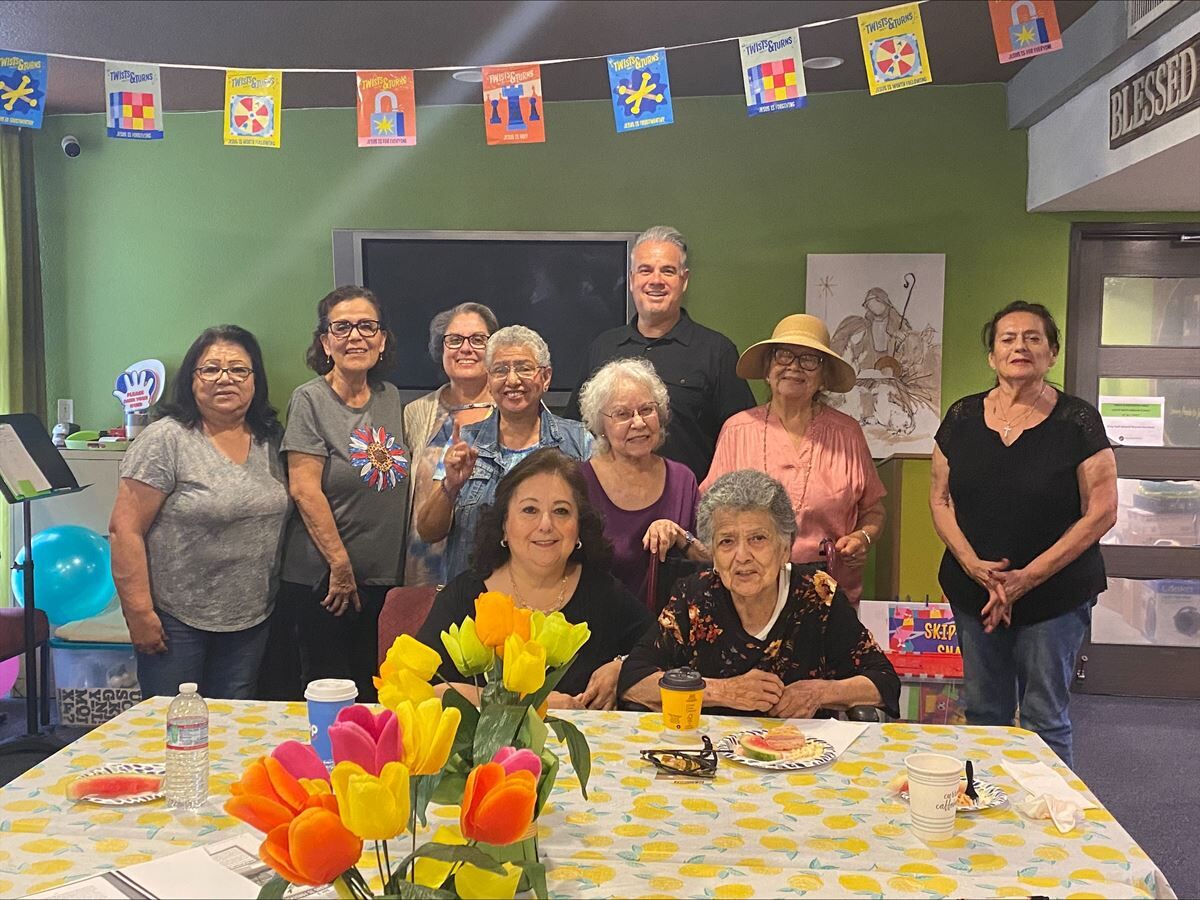 Pictured L-R Rose Barcelo, Lydia Moreno, Lupe Garcia, Irene Fernandez, Lisa Lopez, Marie Rios, Rosie Carrillo, Elsa Molina, Barbara Hernandez,
and Pastor Kasper Molina
---
THURSDAY | JULY 6, 2023


Grace Temple Baptist Church | 7017 SOUTH Gramercy PlACE | Los Angeles, CA 90047
ISRAEL Missionary baptist church | 4501 south compton avenue | los angeles, ca 90011
Phone number: (323) 971-8192 | CHURCH WEBSITE | FACEBOOK PAGE | YOUTUBE PAGE
WEEKLY SERVICES: GRACE TEMPLE: SUNDAY MORNINGS 9:00 AM - WEDNESDAY EVENINGS 6:00 PM ISRAEL MBC: SUNDAY MORNINGS 11:30 AM
Senior Pastor: Rodney J. Howard Sr.
Nominated by: Major Morgan
"Our Pastor has been leading 2 churches over the past 6-7 years. Our Grace Temple Baptist Church lost our Bishop over 6 years ago and Pastor Howard took us under his wing. He has endured so much and carried a lot with the help of a few members while still teaching us the meat of God's word. He loves the lord and it shows through his faithfulness to the body of Christ."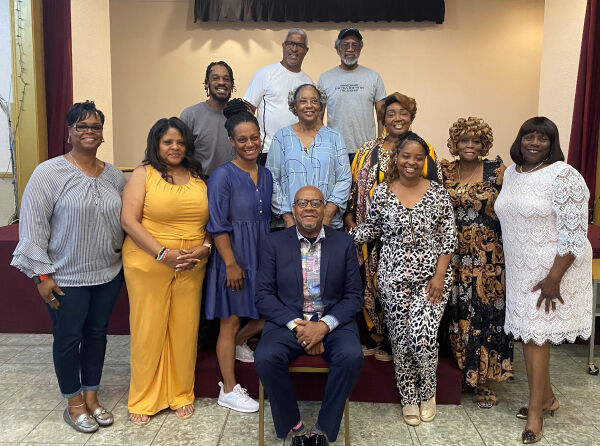 Pictured L-R Left to right: Front row: Pastor Rodney J. Howard, Robbie Youngblood, Center row. Coreletha Penrice, Nicole McDonald, Major Morgan, Gwyn Watkins, Mary Parnell, Erma Thurman, Janice Johnson, Back row:, Antoine Morgan, Steven Sims and John Smith.

---
Sponsored by