A New Beginning with Greg Laurie
Listen on 99.5 KKLA
Monday
5:30AM - 6:00AM, 12:30PM - 1:00PM, 5:00PM - 5:30PM
Tuesday
5:30AM - 6:00AM, 12:30PM - 1:00PM, 5:00PM - 5:30PM
Wednesday
5:30AM - 6:00AM, 12:30PM - 1:00PM, 5:00PM - 5:30PM
Thursday
5:30AM - 6:00AM, 12:30PM - 1:00PM, 5:00PM - 5:30PM
Friday
5:30AM - 6:00AM, 12:30PM - 1:00PM, 5:00PM - 5:30PM
Latest Broadcast
Beauty & The Beast
10/15/2021
At the end of all the mayhem of The Great Tribulation, Revelation says believers in heaven will be celebrating. Friday on A NEW BEGINNING, Pastor Greg Laurie explains why. It's a revealing look at God's plan to vanquish evildoers, and restore the earth to its original glory. An important study coming!
Featured Offer from A New Beginning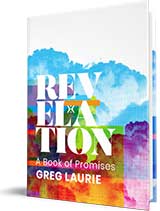 In thanks for your gift, you can receive 'Revelation: A Book of Promises' by Greg Laurie
Revelation is a book of promises! Promises that Jesus will come again, that He will right all wrongs, that He will bring Heaven to Earth, that there will be an end to pain, death, disease, and heartache. All of these promises and more make Revelation a book worth studying! We will mail you a copy when you make a donation of any amount to Harvest Ministries today!