PowerPoint with Jack Graham
Listen on 99.5 KKLA
Latest Broadcast
The Conquering Christ
7/27/2021
On today's PowerPoint, Pastor Jack Graham speaks to the times in our lives when we lose hope. The Word of God reminds us that Jesus is the ultimate answer for those times. When we remember that He died for our hurt, for our suffering, and now lives, our hope can live as well.
Featured Offer from PowerPoint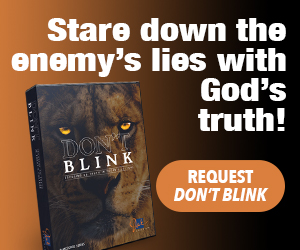 Stare down the enemy's lies with God's truth!
Our world is full of chaos and confusion, moral and spiritual darkness. What it needs to see is bold faith from followers of Christ. Dr. Graham's new 5-message series, Don't Blink, tackles some of the most pressing issues in our culture today so you can be equipped to stare down the lies of the enemy and stand firm for God's truth. And it's out way to thank you for your gift in support of PowerPoint's global outreach ministry today. Request your copy now – and discover the answers our world so desperately needs.