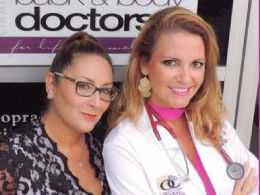 Dr. Desirée and René host The Wellness Show and their focus is your overall health, the most reliable health discoveries and advancements in the ever-evolving world of medicine, the latest trends and breakthroughs in becoming pain free. When it comes to health, we are way ahead of the curve. The future of wellness is here!
Show Links:
---
Dr. Desirée has been practicing for 15 years, and is the clinic Director and founder of one of the fastest growing wellness clinics in Orange County, CA. OC Stem Cell Doctors (Back & Body Doctors) is truly one of a kind. Dr. Desirée Edlund's team of medical Doctors, Chiropractors, Physical Therapists, Nutritionists & Massage Therapists work together to help guide and coach patients to make healthier lifestyle choices and achieve a higher level of wellness.
Through her proven, multidisciplinary approach, Dr. Desirée has successfully treated thousands of people who had been diagnosed with many illnesses including arthritis, sciatica, ibromyalgia, headaches, neck & back pain, carpal tunnel, allergies, acute injuries, chronic fatigue, obesity and TMJ (jaw problems). Her wellness facility offers an advanced physical medicine program as well as personal lifestyle guidance to allow your body to experience maximized living!