Call the show at (888) LA Talks
So Cal Live! with Scott Furrow. Today's issues from a Christian perspective. Call in LIVE and join the conversation - Toll Free (888) 528-2557.
Connect with Scott and the So Cal Live! Production Team via E-mail
Let's Stay Connected!
Show Links:
Sponsored By:
---
---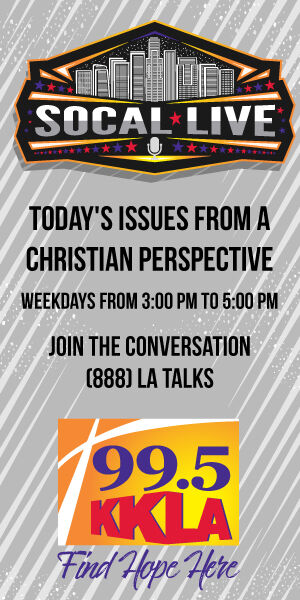 Born and raised in Southern California, Scott graduated from UC Riverside, earning a bachelor's degree in history/law and society. Scott's career has included roles in politics, government, media relations, as well as the corporate marketplace.

He received his Master of Divinity degree from Bethel Theological Seminary in San Diego. A pastor for 25 years, Scott served as Senior Pastor of the First Baptist Church of San Diego for the past 18 years. For two hours each weekday, Scott will bring hope and encourage KKLA listeners to be salt and light in today's rapidly changing culture.

Scott combines a quick wit, theological knowledge and wisdom, a strong grasp of the news, and empathy for issues facing our listeners. As a pastor, Scott's passion and calling has been encouraging people to grow in their faith and to be more Kingdom-minded in everyday life. Hosting SoCal LIVE! on 99.5 FM KKLA will enable him to do that on a much larger scale.