24 Creative Date Night Ideas to Try with Your Spouse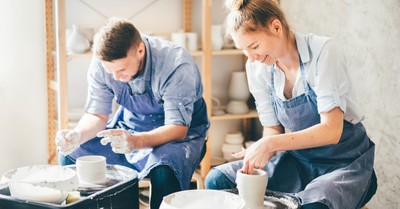 By Carrie Lowrance, Crosswalk.com
Our lives are busy with work, kids, and other responsibilities. It is easy to become disconnected from our significant other amid all kinds of distractions. Some couples work opposite schedules, while others are distracted by taking the kids to ballet, football, and karate. Singles can fall into this trap, too, with their boyfriend or girlfriend. In a world of constant motion, it is easy to let relationships and connections get put on the back burner.
I have heard therapists on television and married couples I know stress how vital dating is. Especially when you are married. Having weekly or at least monthly dates with your spouse is important. This keeps the spark in your relationship and your marriage strong. Still, you may be thinking, "It's been so long since we've been on a date, I wouldn't know what we should do." You may even say, "We go on a date every week, but it's hard coming up with something different to do." For the singles out there, this is for you too. Look at these date ideas and get your creative juices flowing.
Fun Date Ideas
1. Be a Kid Again
Spend some time doing something you loved as a kid. This could be anything from playing with play dough, finger painting, or making homemade slime.
2. Relax with Nature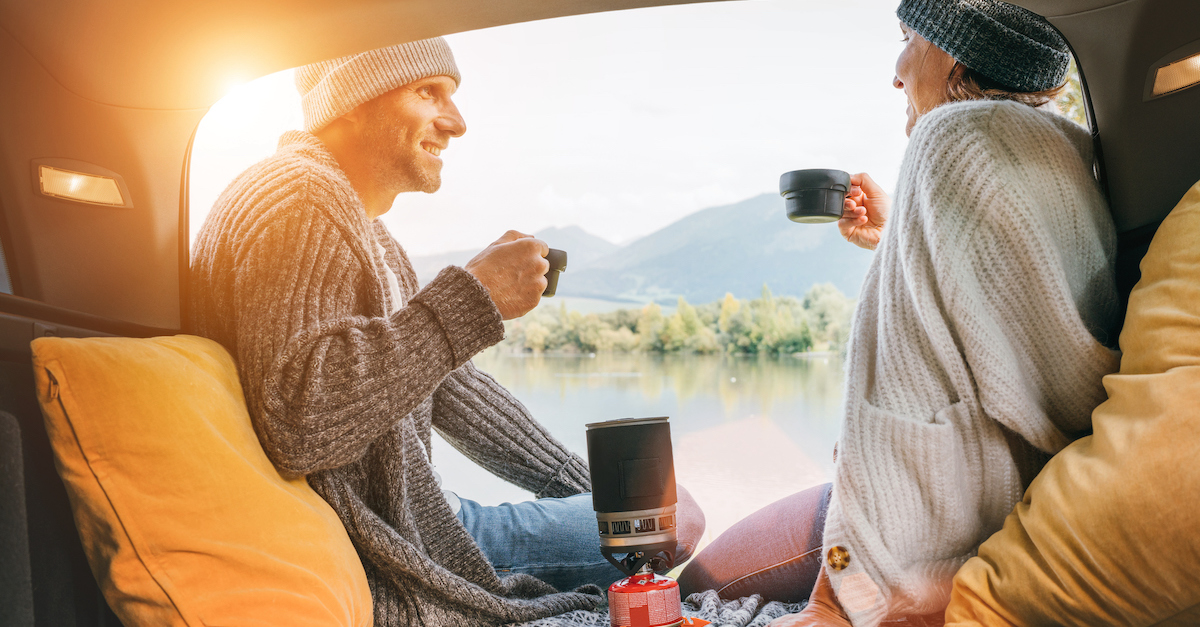 Photo credit: ©GettyImages/Solovyova
Go for a bike ride or on a hike and enjoy what God created for us. Breathe in the fresh air, bask in the sunlight, and enjoy the sound of birds chirping and animals enjoying their habitat.
3. Dance the Night Away
Either go out dancing or take dancing lessons together. This is a great way to get some exercise and be exposed to all kinds of music and types of dancing. You can learn anything from how to waltz to salsa dancing to the tango.
4. Go Swimming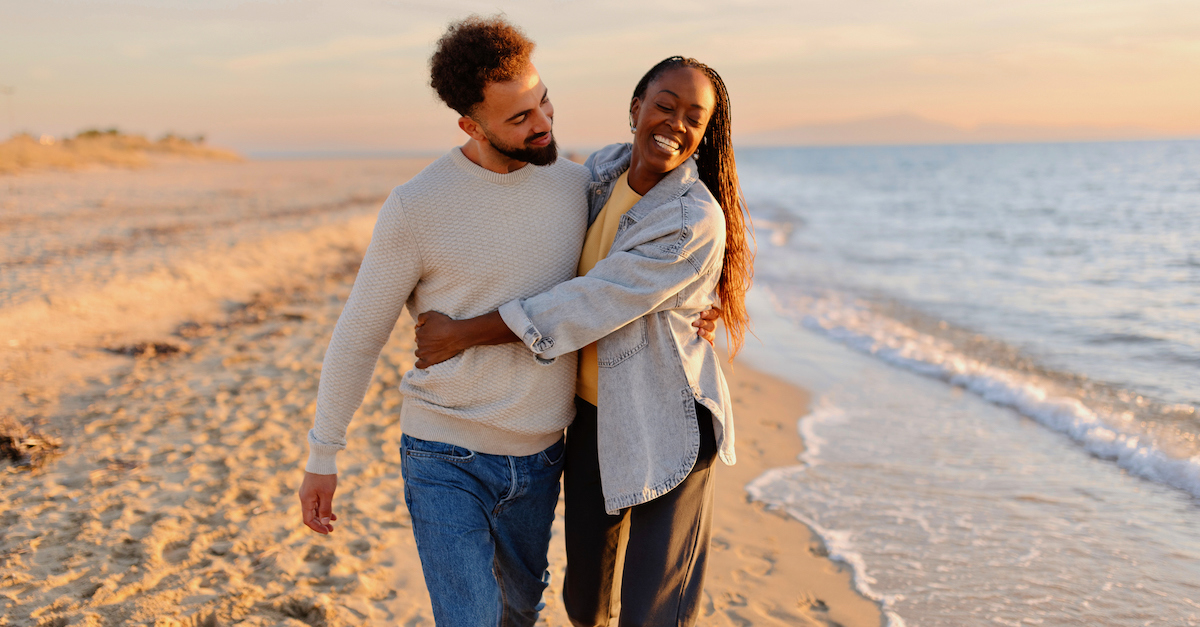 Photo credit: ©GettyImages/Anchiy

Do some research and go swimming somewhere other than in a pool. There may be a natural beach nearby or a creek you can swim in.
5. Go to an Amusement Park
Get your adrenaline running while riding a roller coaster and enjoy some great food.
6. Open Mic Night
Find an open mic night in your area at a library, bookstore, or club and listen to people read their poetry and other works of literature.
Romantic Dates
7. Make Dinner Together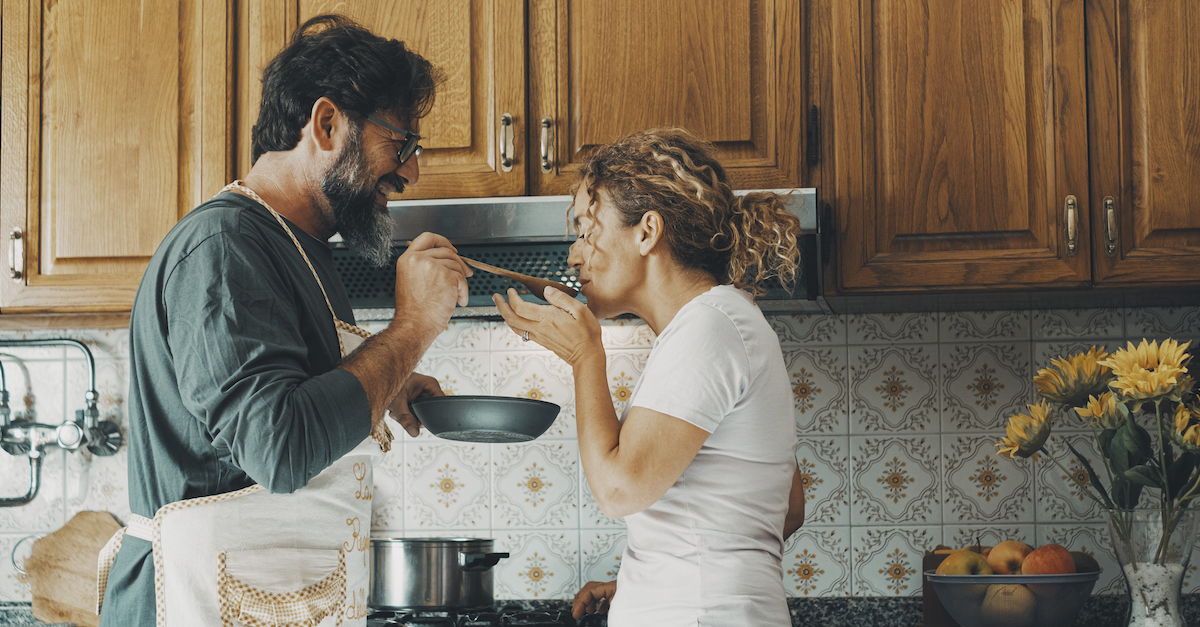 Photo credit: ©GettyImages/simonapilolla
Pick out a recipe that is too expensive to eat at a restaurant and make it at home. Put out your best dishes and dress up as if you were going out.
8. Laugh It Up
Go to a comedy club or see a recent comedy at the movie theater. Laughter is the best medicine, after all.
9. Spa Day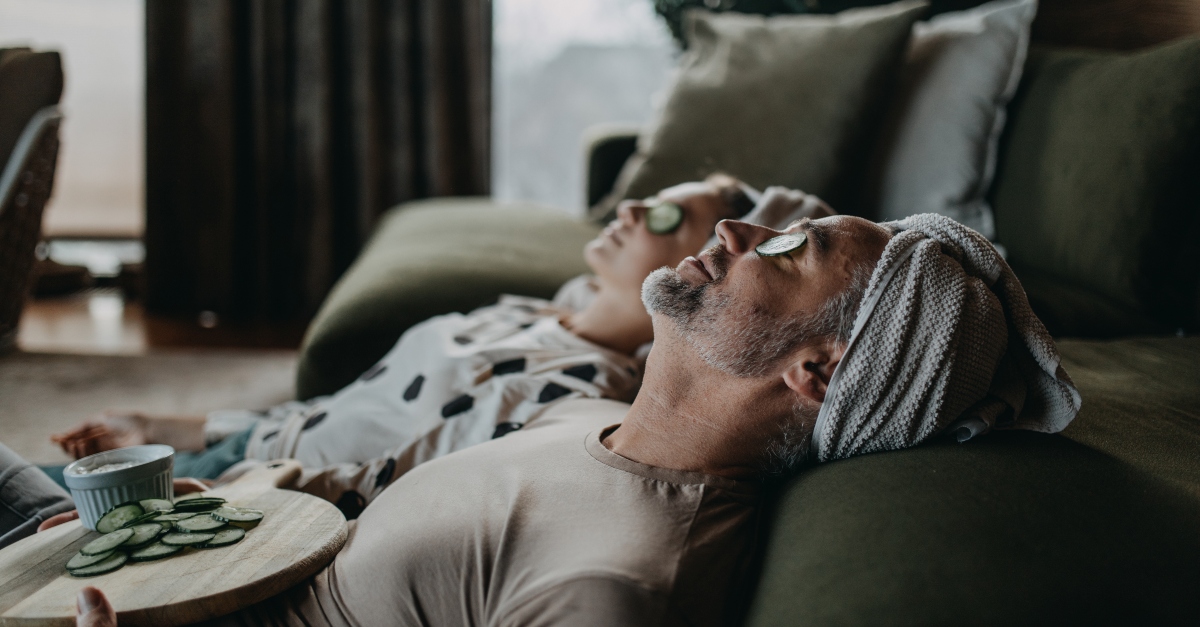 Photo credit: ©Getty Images/Halfpoint Images
Book a couple's day for a massage, mani/pedi, or facial. It's relaxing and important for both people to look and feel their best. Not comfortable going to a spa? Research services that will come to your home.
10. Get Out of Town
Spend the weekend away or travel to a new city a few hours out to explore. The change of scenery will do you good.
11. Ride in a Hot-Air Balloon
If you have the funds (and aren't afraid of heights), go up in a hot-air balloon for a few hours. You can enjoy each other's company while floating in the sky.
At-Home Date Night Ideas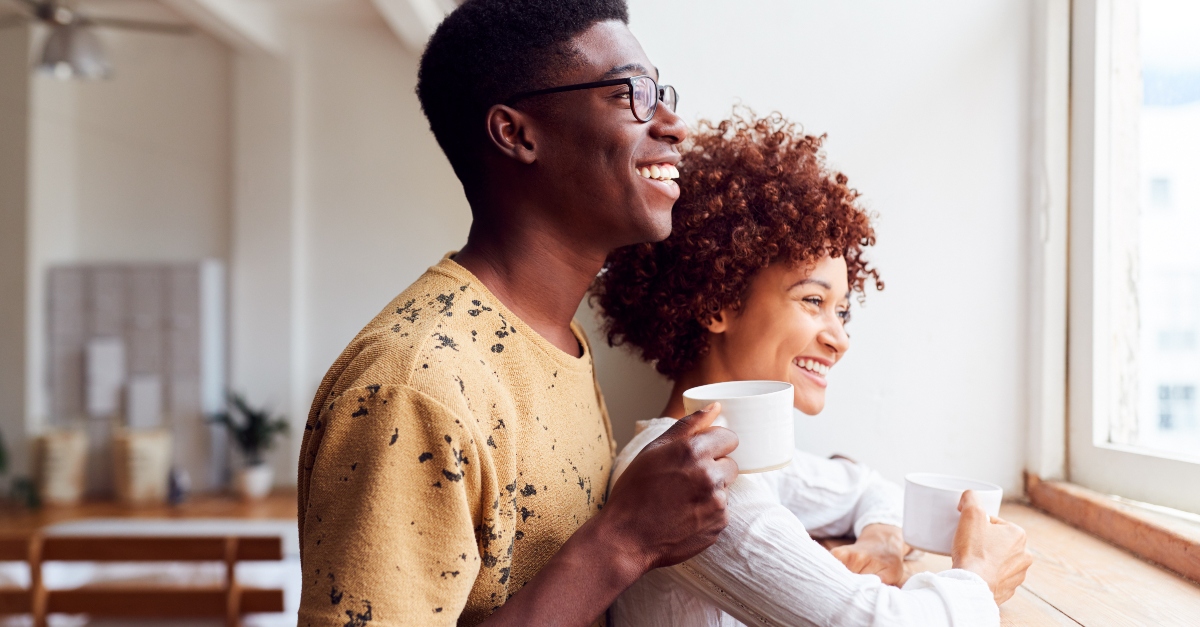 Photo credit: ©Getty Images/monkeybusinessimages
12. Couple's Playlist
Make a playlist for each other and discuss the meaning of each song and how the lyrics remind you of each other.
13. Dessert Competition
Each of you make a dessert and decide who made the best one. You can decide by categories like most chocolate, creamiest, and melt in your mouth.
14. Bookathon
Chances are you and your significant other read very different genres in books. Take turns reading to each other out loud from your favorite books. You could also read poetry or a children's book together to escape.
15. Pajama Party
Get comfy and spend all night watching movies or bingeing your favorite television series. Get snacks you wouldn't normally have, like gourmet ice cream, pretzels, or high-end wine.
16. Listen to a Podcast
If each of you loves podcasts, choose an episode from one of each of your favorites and talk about it afterward.
Specific Interest Dates
17. Go to an Animal Shelter or Cat Cafe
Do you both love animals? Volunteer at an animal shelter on a Saturday afternoon or just look. Cat cafes are also popular; you pay a fee and can go in and visit with 15-20 cats of all ages. Another idea is volunteering with an animal rescue group in your local area.
18. Browse a Bookstore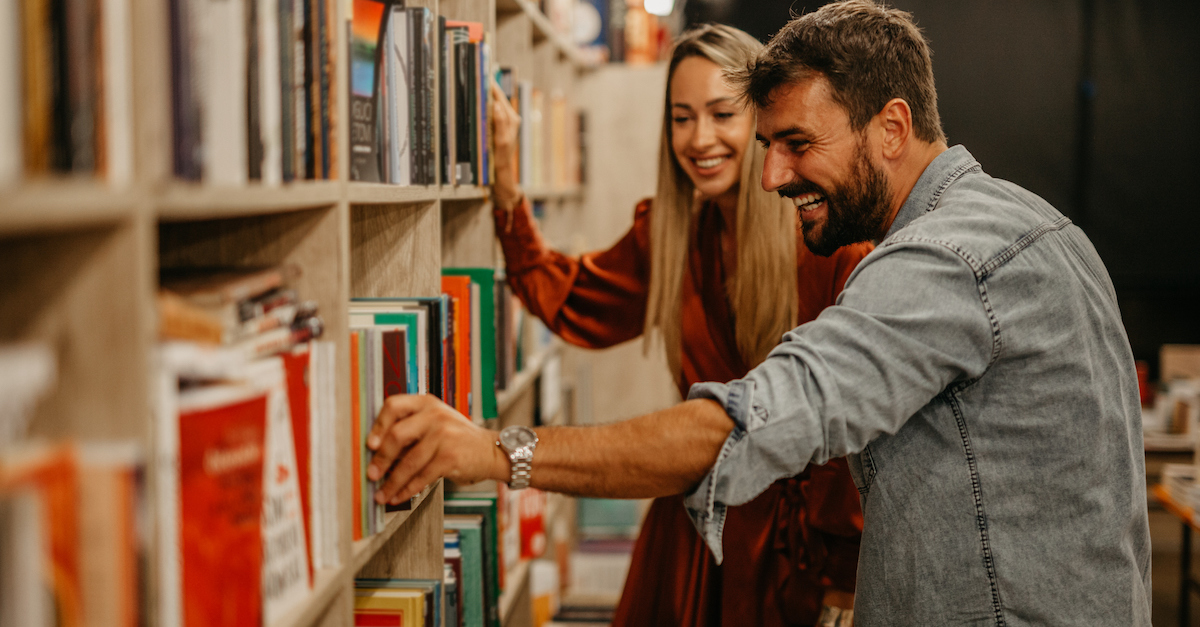 Photo credit: ©GettyImages/Studio4
Instead of going to the chain bookstores, research local, independent bookstores in your area. Used bookstores are great for finding hard-to-find or rare books. They have great sales too. For example, a used bookstore I used to go to would have sales where every book was a dollar on a Saturday. Talk about book-lover heaven!
19. Go to a Local Sports Game
Go to a local baseball, hockey, or football game.
20. Enjoy Some Music
Research and see if any local artists are having a concert in the area. You don't have to go to a big-name show to enjoy some exceptional talent. Local artists often play in clubs, outside venues, and sometimes at wineries.
21. Go to a Candy Store or Ice Cream Parlor
If one or both of you have a sweet tooth, see if there is a local retro candy store or an old-fashioned ice cream parlor near you. In the town I used to live near, there was an old-fashioned candy store/ice cream parlor in the square downtown. Next door was a store that sold flavored popcorn and old-fashioned bottled sodas. Yum!
22. Escape Reality
Go to a VR (Virtual Reality) Lounge or an escape room and have some fun spending some time in another dimension, so to speak.
23. Take a Cooking or Baking Class Together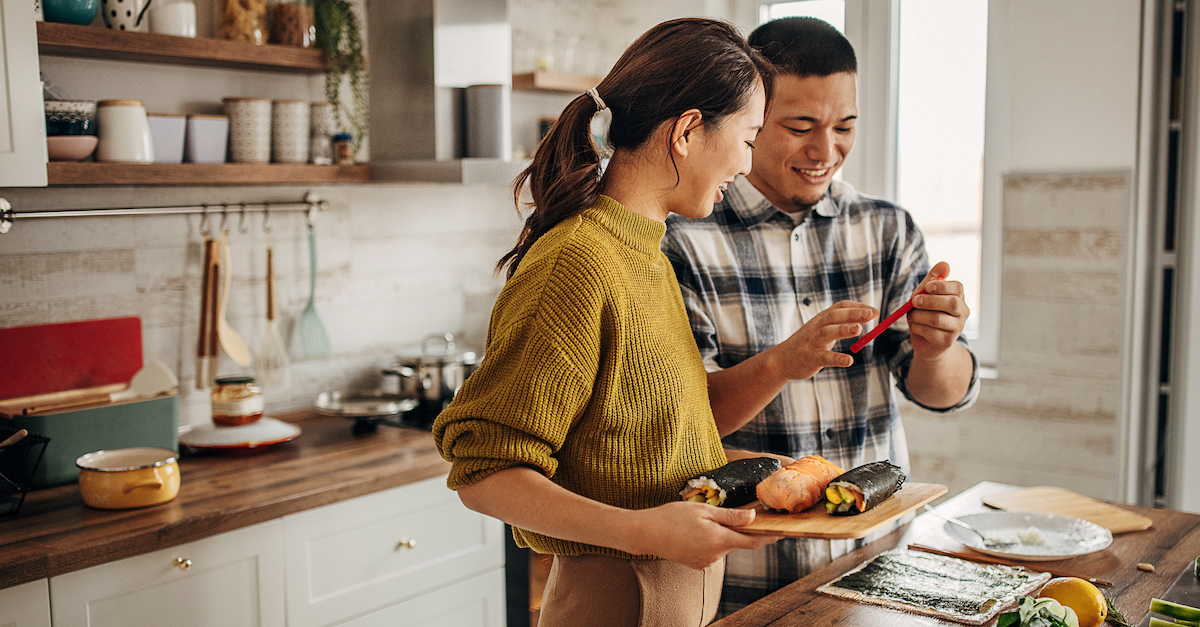 Photo credit: ©GettyImages/South_agency
If food is your thing, take a cooking or baking class together. Even better, see if you can find a place where you can make x amount of meals to take home and freeze. There was a place in the next town over where I used to live. Learning how to cook and having dinner for the next few nights? Sounds like a winner to me.
24. Go to an Expo or Show
You can find expos for all kinds of things. They set an expo up in a building with vendors around specific things like pets, boating, fishing, etc. Another option is to see if there is an animal show going on. We used to go to the cat show in Peoria, Illinois, every year. We recently had an exotic pet expo that featured reptiles, guinea pigs, ferrets, rabbits, etc.
There are endless possibilities for dating ideas. Sometimes you have to be a little creative and innovative. The next time you go on a date, keep these ideas in mind or plan something specific according to your own interests. Your significant other will love it no matter what.
Photo credit: ©GettyImages/Maria Korneeva
Related podcast:
The views and opinions expressed in this podcast are those of the speakers and do not necessarily reflect the views or positions of Salem Web Network and Salem Media Group.
Read the full article here!